I believe God encoded a fun message in a historic win in the NFL on December 7, 2020. It's a little picture of how the election will resolve.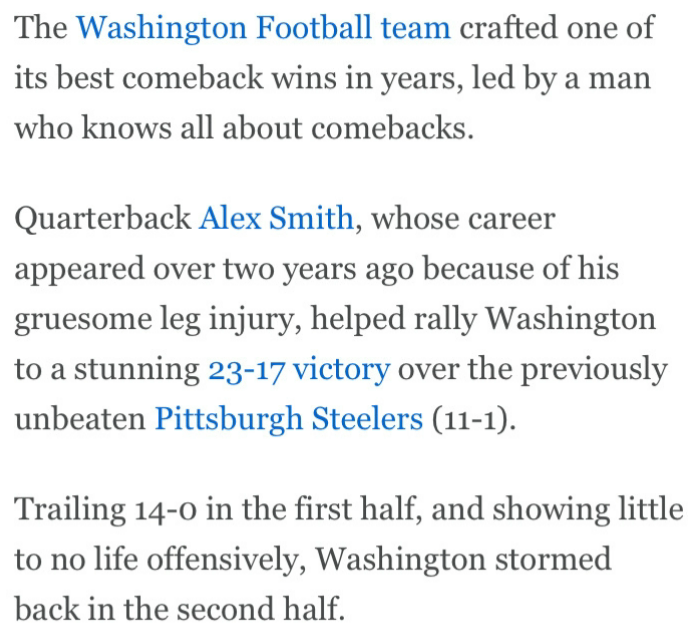 As it relates to the election, Steelers represent those that are trying to "steal" the election. They come in "undefeated" with a formidable history of winning. It looks like they have control of the competition. Washington comes to life in the second half and Alex Smith leads one of the best comebacks in Washington history.
Alex Smith (Alexander means defender of the people) leads the team to the win amidst his own unbelievable comeback from a horrific injury that nearly cost his life.
The Trump parallel is evident as He too is a defender of the people and is leading a historical comeback for Washington and the nation.
The final score of 23-17 equals 40 total points which highlights the testing that our country has been through this year in particular.
Proverbs 23:17 – Do not let your heart envy sinners, But be zealous for the fear of the Lord all the day;
Washington Football Team (Formerly Redskins) have been one the most poorly run professional franchises for the last 25+ years. I know because I've been a fan my whole life. I have often said that the team reflects the dysfunction of Washington itself. The glory days for the Redskins were during the Reagan and Bush administrations. After winning their last Super Bowl in 1991 the team has struggled to compete for the playoffs and have never gotten close to winning another championship.
Since Trump took office there has been a string of champions from DC sports teams. In the last four years, the Mystics, Capitals and Nationals have won the WNBA, MLB and NHL titles respectively. For the last year or so I have been saying that I would not be surprised if WFT won a championship in the next four years as Trump finishes his assignment in cleaning up the Capital.
Despite an attempt to reset the culture at WFT with the hiring of respected coach Ron Rivera, the dysfunction of the team reached a fevered pitch this offseason. The team name was changed from the Redskins due to its connection to racial issues. A large sexual harassment problem was uncovered dealing with front office personnel. Coach Rivera was diagnosed with cancer.
Despite winning the first game of the year, the season also looked like a typical Washington year with poor play and key injuries. Young quarterback Dwayne Haskins was benched because of ineffective play and his replacement Kyle Allen got injured the first game he started. Off the bench comes Alex Smith who had not played in almost 700 days. It was a rough outing and the team lost in his comeback game. Since Alex has been the starter the team is 3-1, though.